I've worked a lot of jobs over the course of my adult life. First I was a soldier serving in the first Gulf War (yeah, I'm an old). Then as a machinist when I came home to Texas. Eventually I settled into a life as a drafter and designer working in several industries, most recently Oil and Gas. But I was always restless in all of those jobs, moving from company to company. Why? Because that's all they were. Jobs. Not a career. Not a calling. Not a passion. I knew I needed to make a big change in my life if I ever wanted to know success and happiness.
So in 2016 I decided to do something about it. I had just been laid off for the second time and I used the time off to pursue writing and illustrating a graphic novel. It was a story that had been forming and growing in my mind for at least ten years and I felt a need to tell it. To get it out of my head, and, maybe, start a new career in the process.
Now, did I know anything about writing and illustrating professionally? Hell no. I wanted to be an illustrator when I was a kid, but I never pursued it. And I had started a correspondence class in creative writing when I was in the army but never finished it. But I didn't let my lack of practical experience or common sense stop me. I signed up for some online classes and dove right in.
I worked my ass off for a full year, even after going back to working a day job to pay the bills. I studied and practiced every day after work and all day Sundays. But by 2018 I had to concede that I would be an old man before I finished writing, sketching, inking, coloring, and lettering a full length graphic novel. There's a reason why most graphic novels are produced by TEAMS of trained artists. I had gotten myself in WAY over my head. But I wasn't ready to give up on the dream of finding success and happiness. (By the way, my artwork wasn't half bad. Still not professional quality, but not bad. Here's one of the pages.)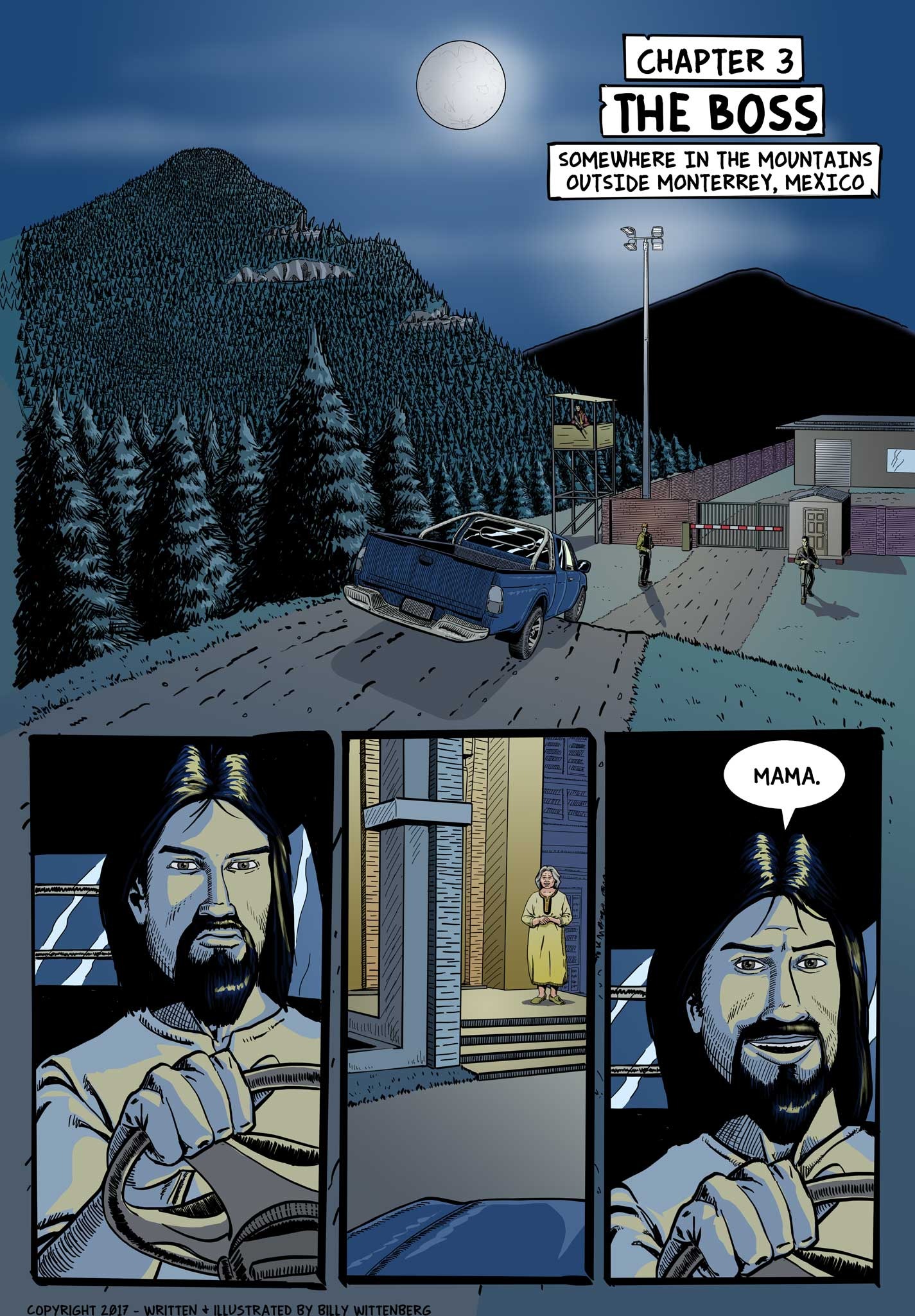 I readjusted my sights and scaled back the project to just write a traditional novel. I signed up for more online classes and poured myself into mastering the writing craft. And after about 6 months I discovered something amazing.
All my life I wondered why I never had a passion for anything. Even art. I've seen and read dozens of success stories on TV and the internet. People who broke through the humdrum life to find breakout happiness and financial reward. You've seen those stories too, I'm sure. The one common denominator among all those people was that they were DRIVEN and PASSIONATE to realize their dreams. And, finally, after all these years, I had found my passion too.
After 2 more years of non-stop work, I finished my novel in June 2020. I entered the book in a few competitions. I was longlisted by Jericho Writers for their 2020 Friday Night Lights writing competition. I was also named a finalist for the 2020 Page Turner Awards. This is an award given to unpublished authors in order to promote them and their work, which is very difficult for a complete unknown. You can see the announcement page here: https://pageturnerawards.com/writing-award-finalists. In October 2020, I won a mentorship with British thriller novelist, Tony Drury. With his help, I am currently in negotiations to publish my book via City Fiction Publishing. The anticipated release date is late 1st quarter 2021.
In the meantime, life has once again reared its ugly head. The pandemic struck and I became one of the millions of people who lost their jobs. For the 3rd time in 12 years I was cut loose. But I'm not letting this stop me. If anything this time off has helped. How? It has given me the time to pursue my goals full time. I finished my novel and have started another, which I will give away for free to anyone who asks.
And what about the internet marketing I mentioned on the home page? Well, until I land the Stephen King-like 7 figure book deal, I'm going to need to earn an income. So I've joined another online class to learn how to market products online and make money. Some people have become millionaires in internet marketing. For now I'm keeping my goals more realistic. Just to keep the lights on and give me the freedom to keep on writing. And I'm inviting you to join me on this ride. Anything I learn that I believe will help others, I'll post on my marketing website, billywittenbergmarketing.com. Check in again in a couple months when I've finished my training and I'll tell you more.
But I saved the best part for last. The reason why I work so hard. The people who have given me so much happiness over the years, even when I worked jobs I couldn't stand. My family. My wife Teresa. My son, Luke, and daughter, Giselle. And my mother, Ofelia, who was the inspiration for Maria, the main character of my novel. I want to return the happiness that they gave me all those years when I no other reason to keep going to work every day.
Thanks for reading. If you're interested in my journey, please come back later and download my free book or check out my marketing products. I'll be sure to stay in touch.
-Billy Wittenberg (12-3-2020)